It is not an exaggeration to propose that our environment directly impacts our emotions and general attitude. We usually spend more time and effort on our interior designs. Our homes' exterior paint types are supposed to reflect who we are as people. Still, we frequently overlook guests' first impressions of our houses and the people who live there come from the exterior. Various types of Exterior paints are necessary to keep bacteria and fungus from colonising the walls. Your home's exterior wall painting project could be unpleasant and time-consuming. As a trusted wall painter in Chennai, I'm often asked by homeowners whether it's beneficial to paint your exterior walls. Here is a detailed blog on best exterior paint types.
Types Of Exterior Paints
The type of exterior house paint used is one of many things to consider before starting the painting project. There are numerous exterior house paint types, each with unique benefits. The four most popular types of exterior paints are shown below.
Paints Made Of Oil
Oil-based paints are resilient in addition to being water-resistant. Surface penetration is improved with oil-based paints over other forms of paint. Oil-based paints are the ideal choice for painting metal parts because they are water-resistant. They are a great alternative type of exterior house paint when painting bleeding woods.
Acrylic Paints
In essence, acrylic paints are plastic paints with high adhesion properties. Acrylic paints are liquid and highly durable since they can withstand oxidation and chemical deterioration. As a result, acrylics take a while to turn yellow. Acrylic paint is usually considered the best type of exterior paints and are frequently produced using premium components, which give them their viscosity and thickness. It is more elastic and can stretch and shrink in response to changes in temperature. For walls, acrylic paints work best.
Latex Paints
Acrylic resin is used to create latex paint. Latex paint is water soluble in addition to being a water-based paint. Due to the availability of latex paint in huge quantities, most people choose it over acrylic paint when painting walls. Latex paint dries more quickly, responds well to seasonal temperature changes by contracting and expanding, and is simple to clean up if there are blemishes. Painters can paint most outdoor surfaces, including walls and fences, with latex paint.
Enamel Paints
Choose enamel paint for a more classy appearance. Enamel paint is one of the best for exterior walls because of its durability and ability to endure various adverse environments. Another advantage of enamel paint is that it can be considered a paint for building exterior without primer or sanding. For wooden constructions like fences, the enamel is a good alternative.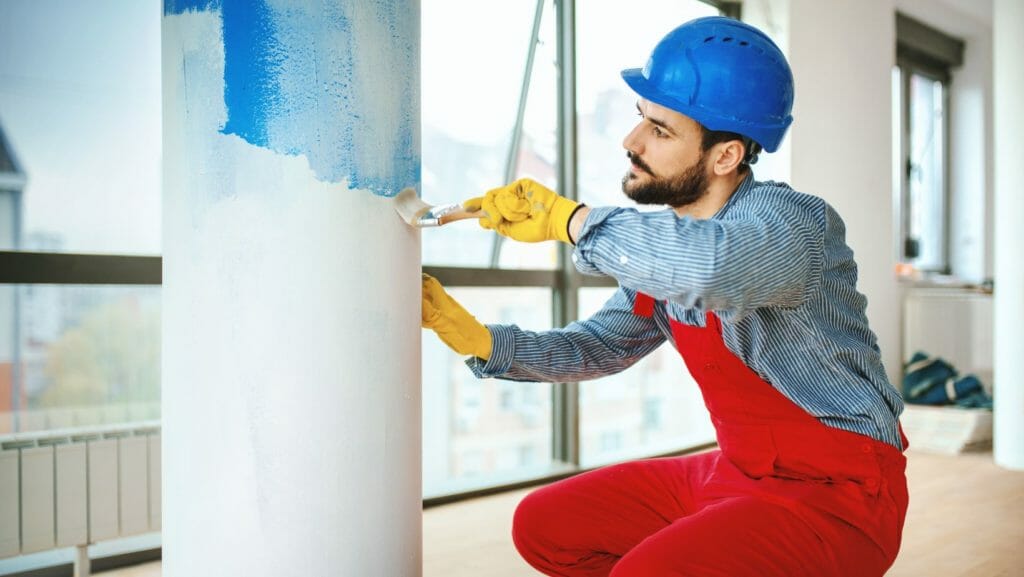 Paint Nippon Exterior
One of the best types of exterior house paints is this one. This paint is of excellent quality and comes packaged beautifully. The paint is affordable and long-lasting. This exterior paint type is affordable for everyone and gives your walls gloss and protection. The top-quality Nippon paints provide your exterior walls with eternal lustre and protection. Such paints do, However, work well in inclement weather and other environmental situations. These are the various exterior paint types and the most appropriate types of exterior paint.
Glossy or Semi-Glossy Finish paints
Glossy finish paints are shinier than satin and flat finish paint and come under exterior wall paint types that are long-lasting and simple to maintain. Use this finish on trim that is most exposed to the weather, such as window sills and garage doors, as it is long-lasting and slightly water-resistant.
Conclusion
Exterior paint types are pretty important since they give the outside of the house a new and fresh aspect and make it look perfect. If you need expert and trusted wall painter in Chennai, you must book a free consultation with painting expert in Chennai by visiting NoBroker.in