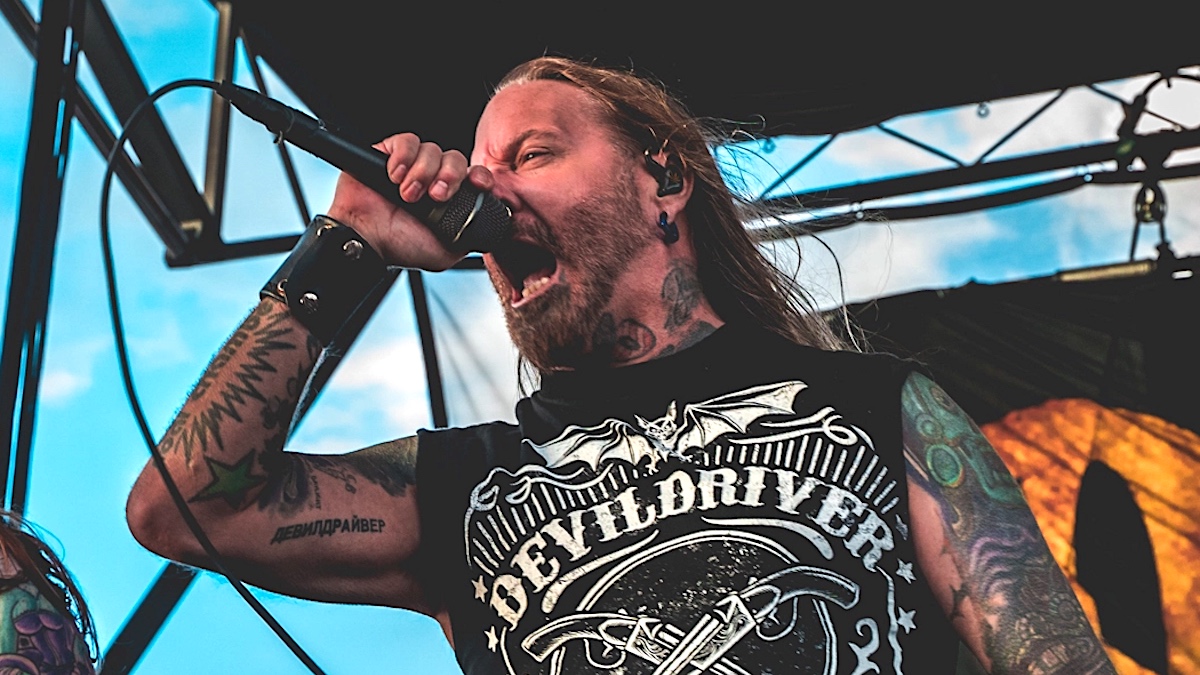 Dez Fafara, frontman of the bands DevilDriver and Coal Chamber, has revealed that he currently is unable to tour overseas because of heart problems that arose from his 2021 battle with COVID.
DevilDriver are currently touring the States with Cradle of Filth, and Coal Chamber were recently announced as direct support on Mudvayne's summer 2023 outing. While Dez has been cleared to play stateside gigs, he can't get on a flight anytime soon.
The singer revealed his condition as DevilDriver pulled out of the UK's Bloodstock Open Air festival, explaining as follows:
"In 2021, I came down with COVID which left me with heart problems. I had to live downstairs in my house, as I could barely walk more than a few feet without collapsing. I, in fact was saying goodbye to my family at the time and didn't think I would pull through.
I took 2022 off and very slowly started to walk one block, then two blocks, and had to fight my way back very hard – it took me 14 months to get to a point where I could perform again on stage.
My cardiologist (who saved my life) has asked me to not take any long flights this year at all as we monitor the situation. It has been a very long road for myself and my family, but am returning to form. Even on tour now with DevilDriver, I must do the show, then go straight to my bunk to rest, as I still have inflammation in my lower heart and it's that what's preventing me from taking flights overseas. So it is with the heaviest of hearts that DevilDriver must pull down our long awaited Bloodstock performance. I am sorry if this causes any inconvenience and I hope within the next 12-24 months to get the all clear from my doctor to fly and tour overseas.
I want you all to know it's thinking about touring, being on stage again, and playing music that's actually helped me to survive this.
I love you all please be good to each other and I'm grateful for any prayers you can send our way as they will certainly be well received. We certainly would not be pulling out had health not come into play."
DevilDriver's tour with Cradle of Filth runs through a March 26th show in Albuquerque, New Mexico, with tickets available here. Prior to the tour's launch, Fafara and Cradle of Filth frontman Dani Filth shared their top five songs from each other's band in an exclusive Heavy Consequence feature.
Coal Chamber will hit the road with Mudvayne beginning July 20th in West Palm Beach, Florida. The outing will also feature GWAR, Nonpoint, and Butcher Babies, with tickets available here.
See Dez Fafara's full statement in the Instagram post below.
!function(f,b,e,v,n,t,s)if(f.fbq)return;n=f.fbq=function()n.callMethod?
n.callMethod.apply(n,arguments):n.queue.push(arguments);if(!f._fbq)f._fbq=n;
n.push=n;n.loaded=!0;n.version='2.0′;n.queue=[];t=b.createElement(e);t.async=!0;
t.src=v;s=b.getElementsByTagName(e)[0];s.parentNode.insertBefore(t,s)(window,
document,'script','https://connect.facebook.net/en_US/fbevents.js');
fbq('init', '1753966171496536');
fbq('set','agent','tmgoogletagmanager', '1753966171496536');
fbq('track', "PageView");
The post Dez Fafara (DevilDriver, Coal Chamber) Unable to Tour Overseas Due to Heart Problems first appeared on Stars planet.