The world of crypto is infamously known for its volatility. When we're talking about the cutting edge of finances and technology, things can really move fast. For anyone willing to dip their toes in the world of crypto and NFT, it can be a daunting task to find a reliable, quality resource. Who to follow to get the latest and the best news, blogs, and podcasts? Stay tuned!
Top 5 Crypto Blogs
TradeCrypto.com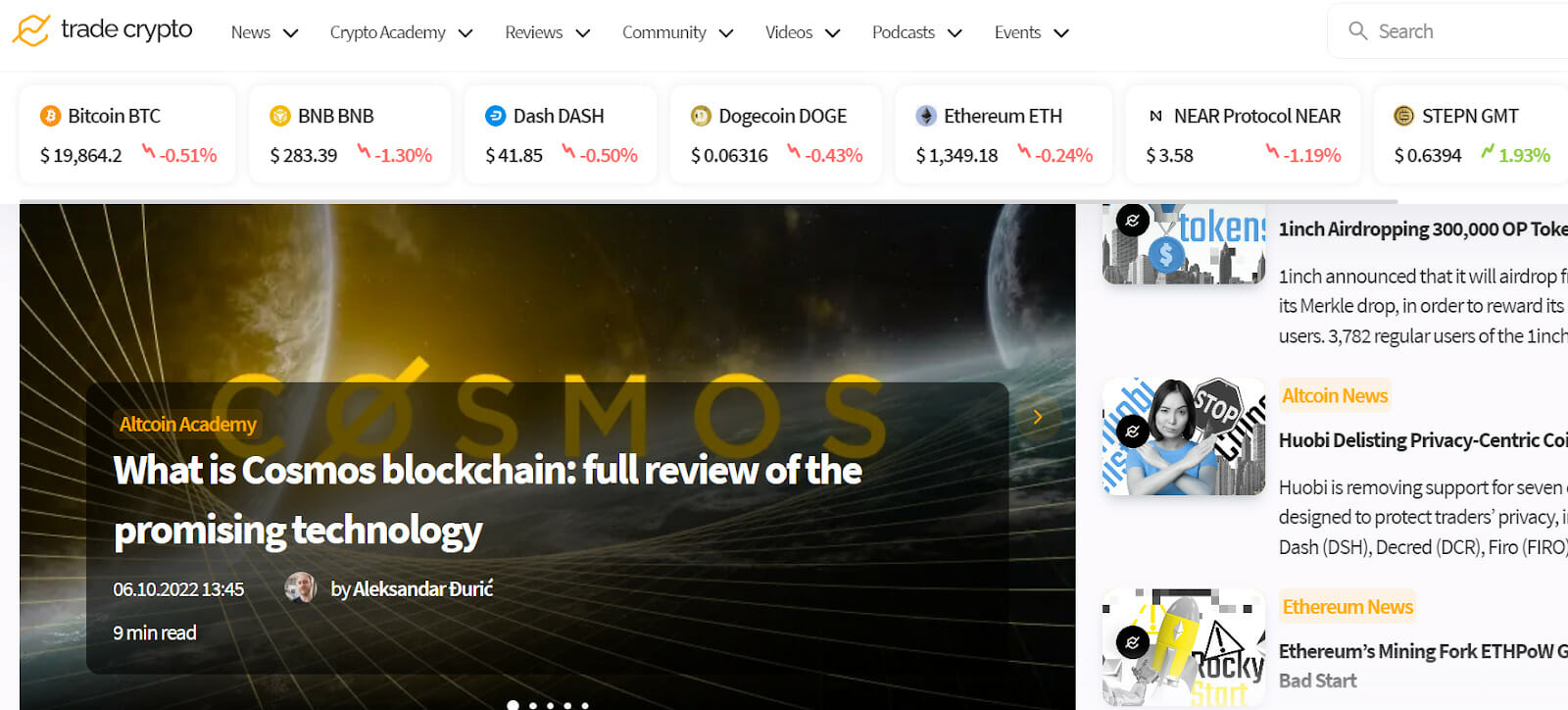 One of the best resources out there for beginners and advanced traders alike, TradeCrypto.com covers the latest news about policies, industry, DeFi, and NFT. For those interested in podcast format, they have their own show talking with established and upcoming crypto experts.
TradeCrypto.com boasts the most comprehensive guides under the tab "Academy." The thing is, a lot of blogs and websites offer pieces of information, sometimes on point but mostly vague, making the reader hop between disjointed topics. TradeCrypto.com has fully illustrated how-to, step-by-step guides to buy crypto, altcoin, DeFi, and legal regulations.
CoinDesk
CoinDesk is a bit of a powerhouse in the world of crypto news. Other than being very analytical in their news reports, CoinDesk offers relevant opinion articles and insights from the industry segmented into the news for traders, tech enthusiasts, regular podcasts, and such.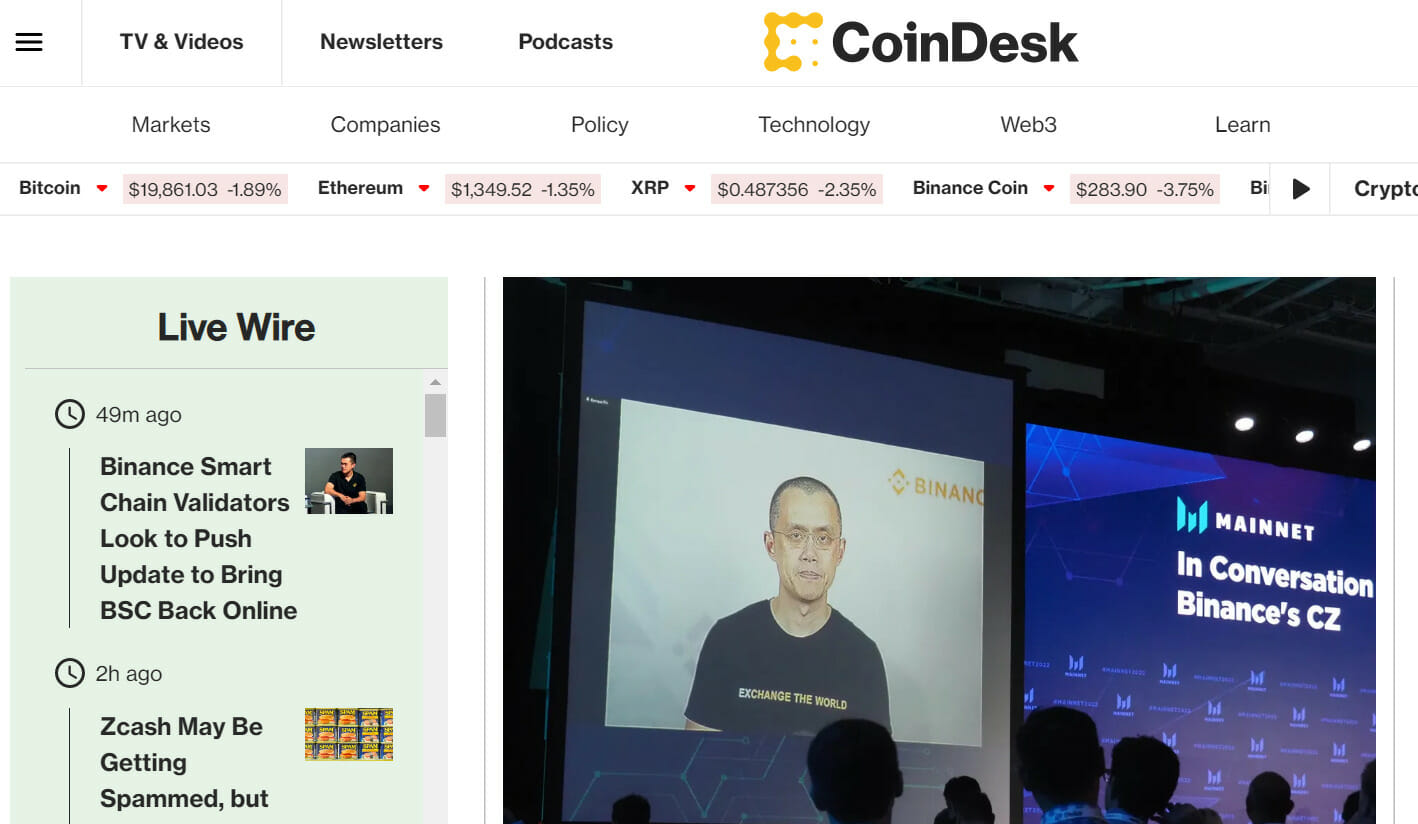 However, CoinDesk is not only comprehensive but quite deep. This means it will likely scare off absolute beginners, who can be overwhelmed by the volume of content tailored to those already knee-deep in the various segments of crypto technologies.
CoinBase Blog
CoinBase is a centralized exchange. One of the major players, along with Binance, and the best place for beginners to start trading. Their popularity is well earned as they sport easy and smooth onboarding. In addition, their help section is a veritable academy for crypto, and the exchange itself is easy to use no matter where in the world you are.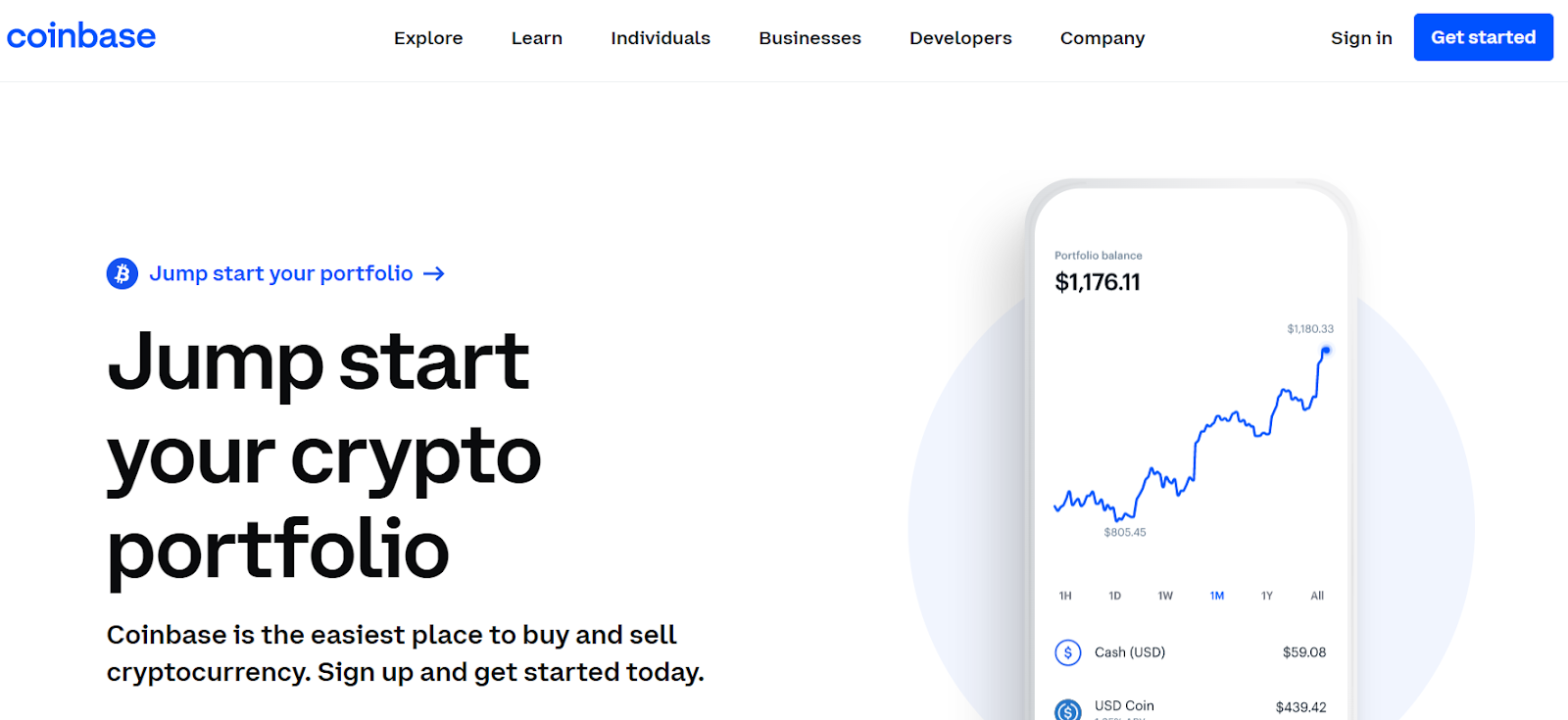 CoinBase runs a blog which is a mosaic of news from the company, very useful guides, and articles of interest to both beginners and intermediate users. Their news offers good insights on where to invest and what interesting projects are coming up, and overall they are more pointers than coverage of the latest events.
CryptoNews.com
Among many crypto portals with crypto news, CryptoNews brings a very interesting mix of flash news and deeper, insightful analysis. Especially useful is their (roughly) weekly batch of news segmented into investment, metaverse, adoption, security, mining, regulation, NFT, career news, and more.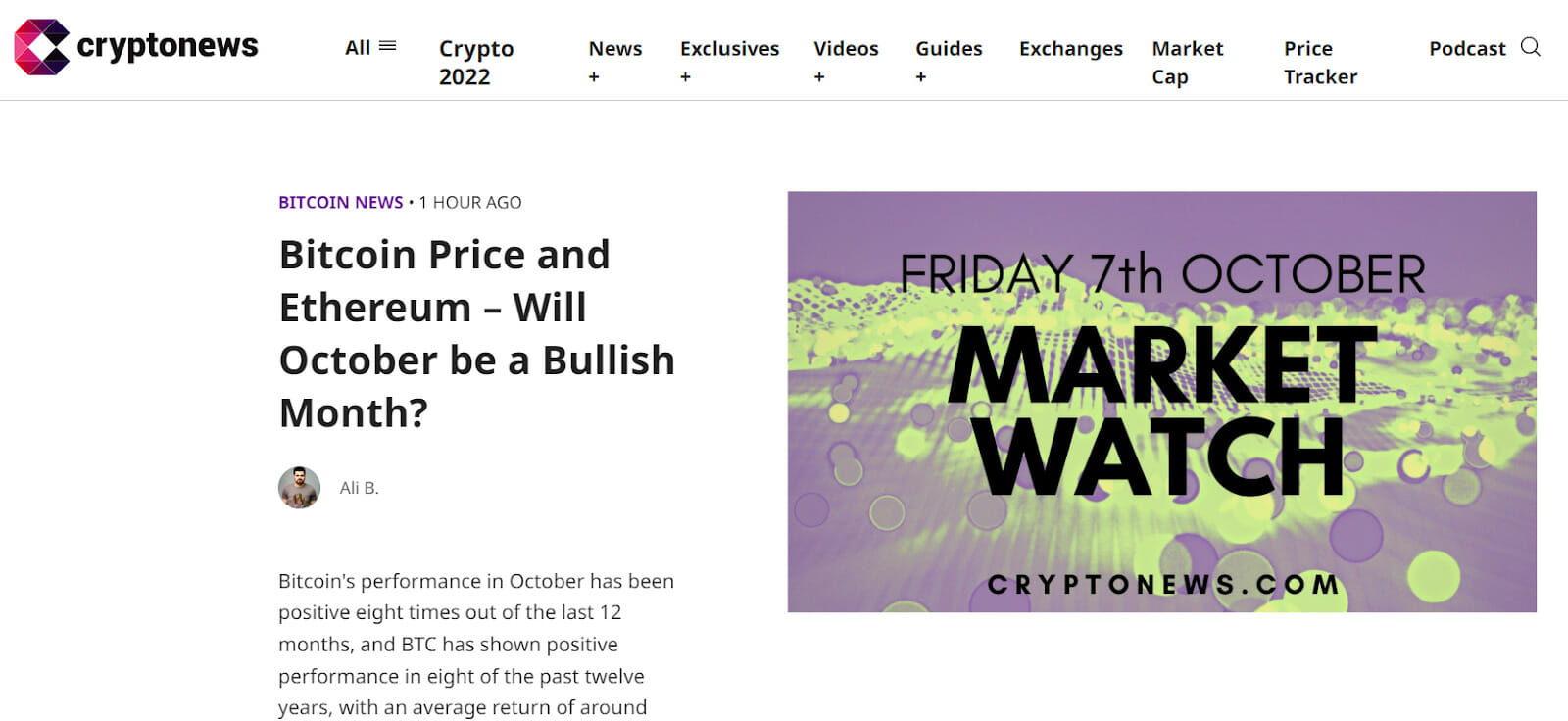 Their guides section is quite extensive and well-formatted. You can explore the basics of DeFi, Bitcoin, Altcoins, or blockchain in general, with more advanced topics like trading tools, ICOs, and trading.
The Block
Their news section is more about commentaries on important events in the world of crypto rather than a news ticker, but the strongest point of this blog is the great Data section. There you can see different interesting (and important) data neatly visualized.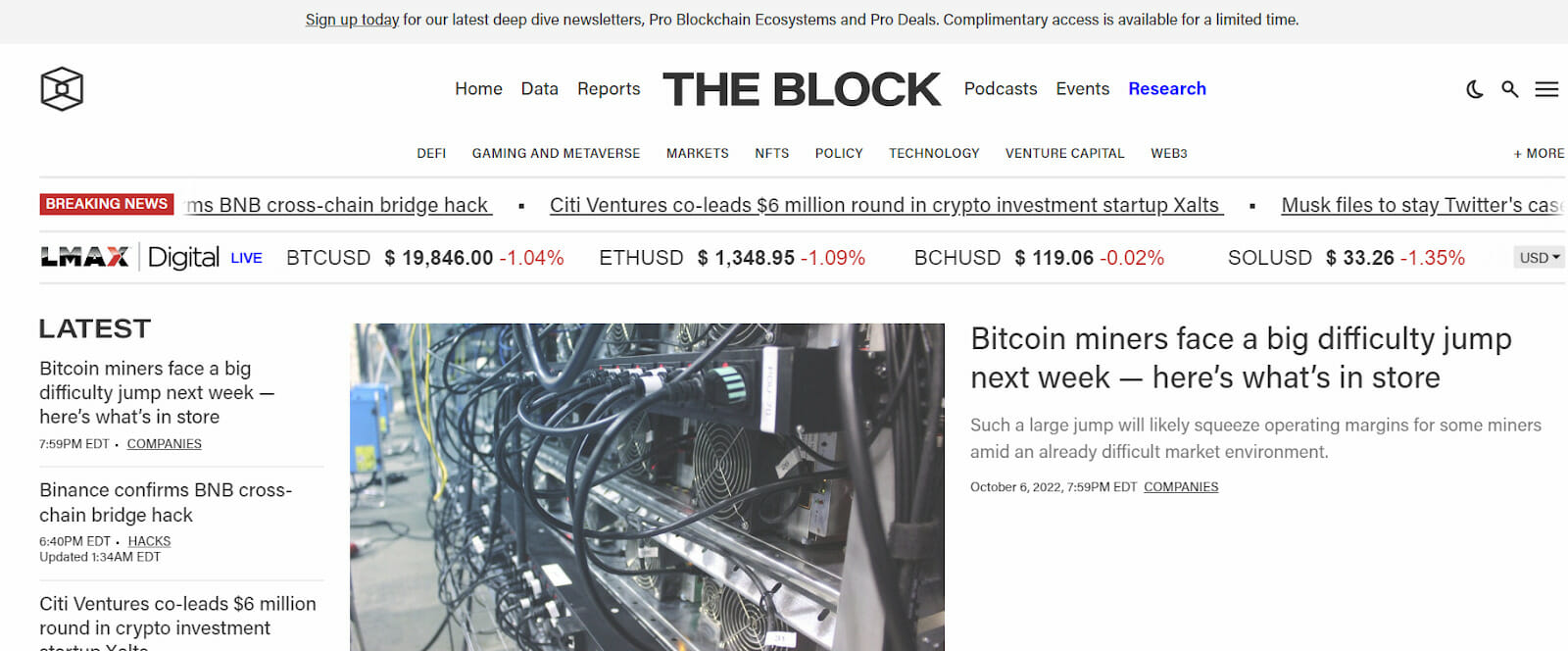 If stats, reports, and data insights are not your thing, you can enjoy podcasts and enjoy an extensive list of crypto events to attend.
Top 5 Crypto Youtube Channels
Whiteboard Crypto
If you are a new or even an intermediate crypto enthusiast, Whiteboard's explanatory videos are both informative and a delight to watch. Whiteboard Crypto is a Youtube channel dedicated to explaining cryptocurrency topics in an approachable way so that even your grandparents can understand.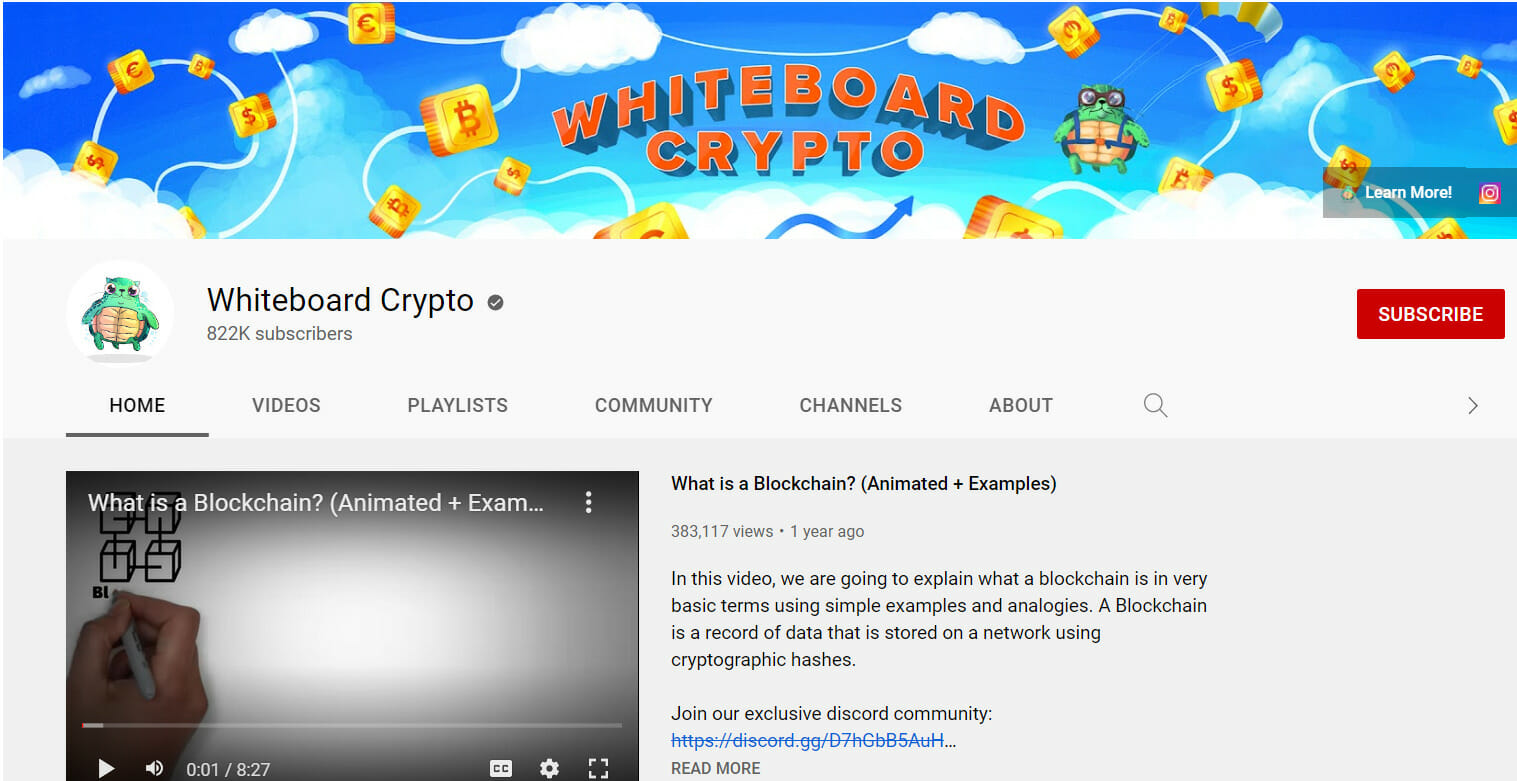 They surely deliver on their promise. Other than accessible explanations, however, Whiteboard Crypto also creates various guides on deeper topics. For instance, they managed to explain all the key aspects of yield farming in an easily understandable manner, along with videos about Layer 2 scaling, DeFi, Web 3.0, etc.
Max Maher
Max Maher is the guy who runs a Youtube channel that started as "news that makes you money," pivoting strongly (almost exclusively) to crypto in the last few years. What makes Max stand out from the crowd are his skills as an investigative journalist.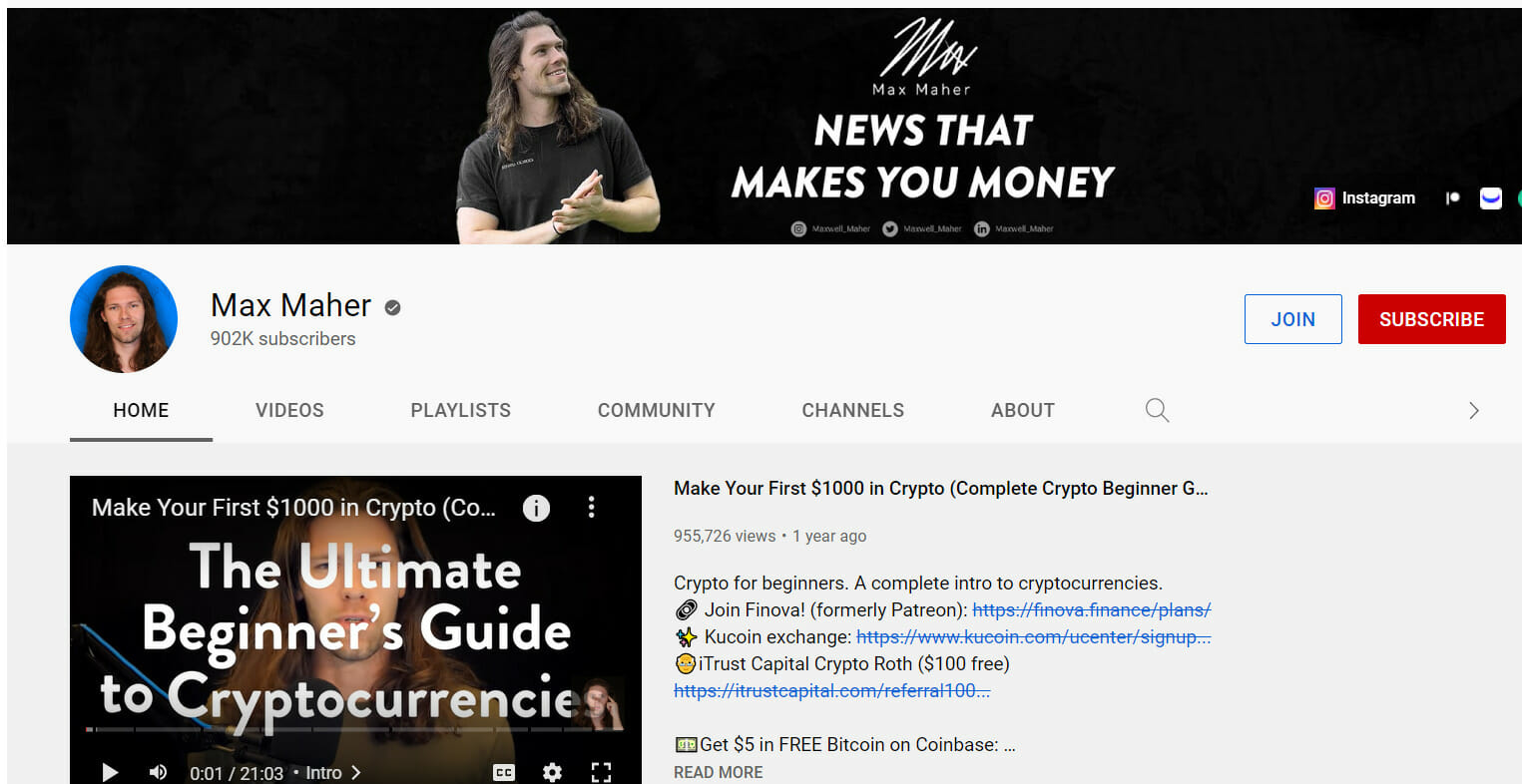 His team will bring news about scams, frauds, and other suspicious moves on the market in a well-documented and well research manner, but primarily follow him for a plethora of practical advice on how to get the best and safest return on your investment.
Money ZG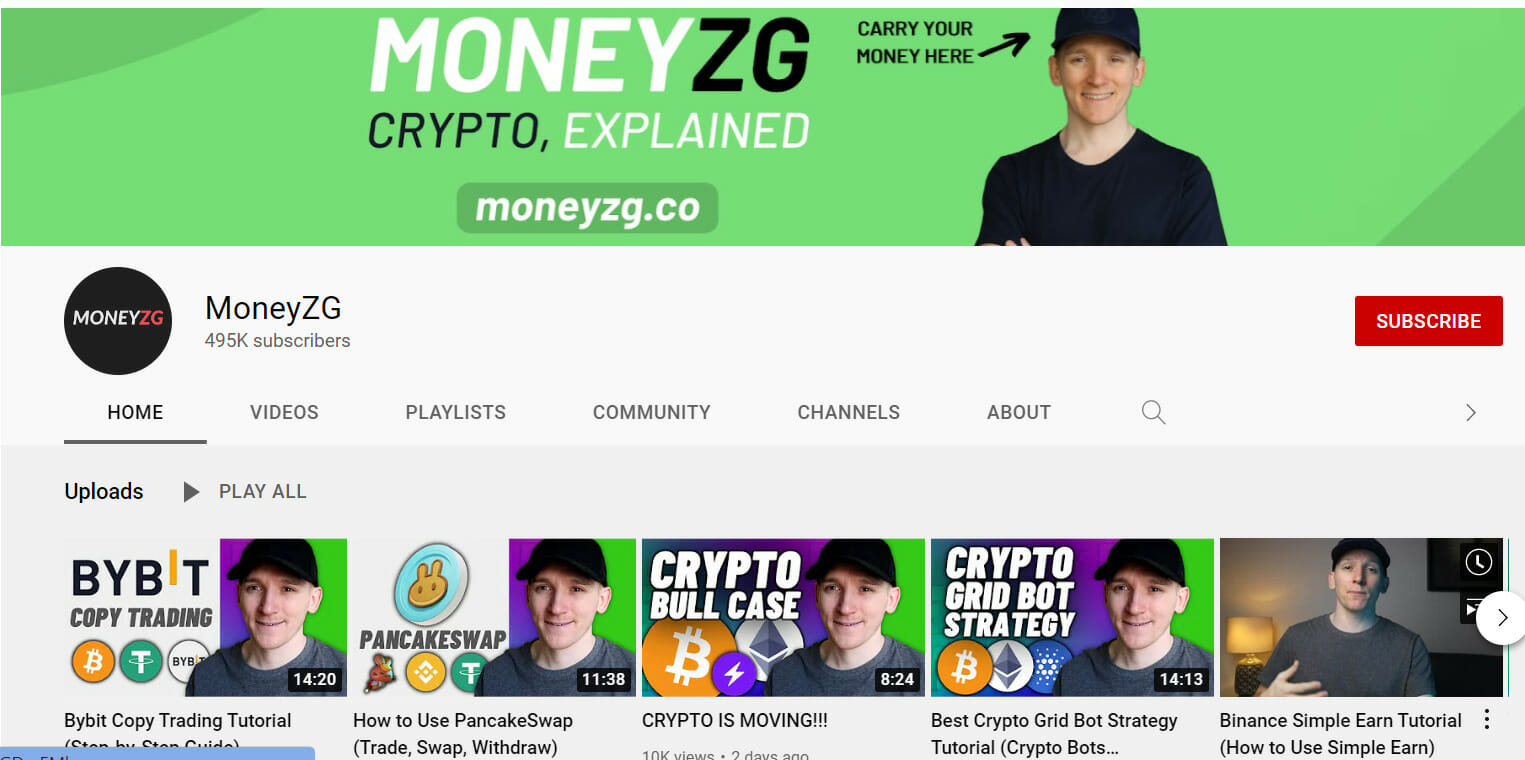 If you come to the world of crypto from traditional forex or stock trading, Money MG is something right up your alley. This channel will teach you everything you need to know about trading tools and practices. Regular updates and news are focused on moves with BTC as well as top 10 altcoins, with a pinch of heads up on various projects that could go 100x.
Crypto Casey
Casey's content is both wide and deep. She runs a channel with crypto news oriented towards decoding how current events in the world and in the crypto markets will affect the state of the markets.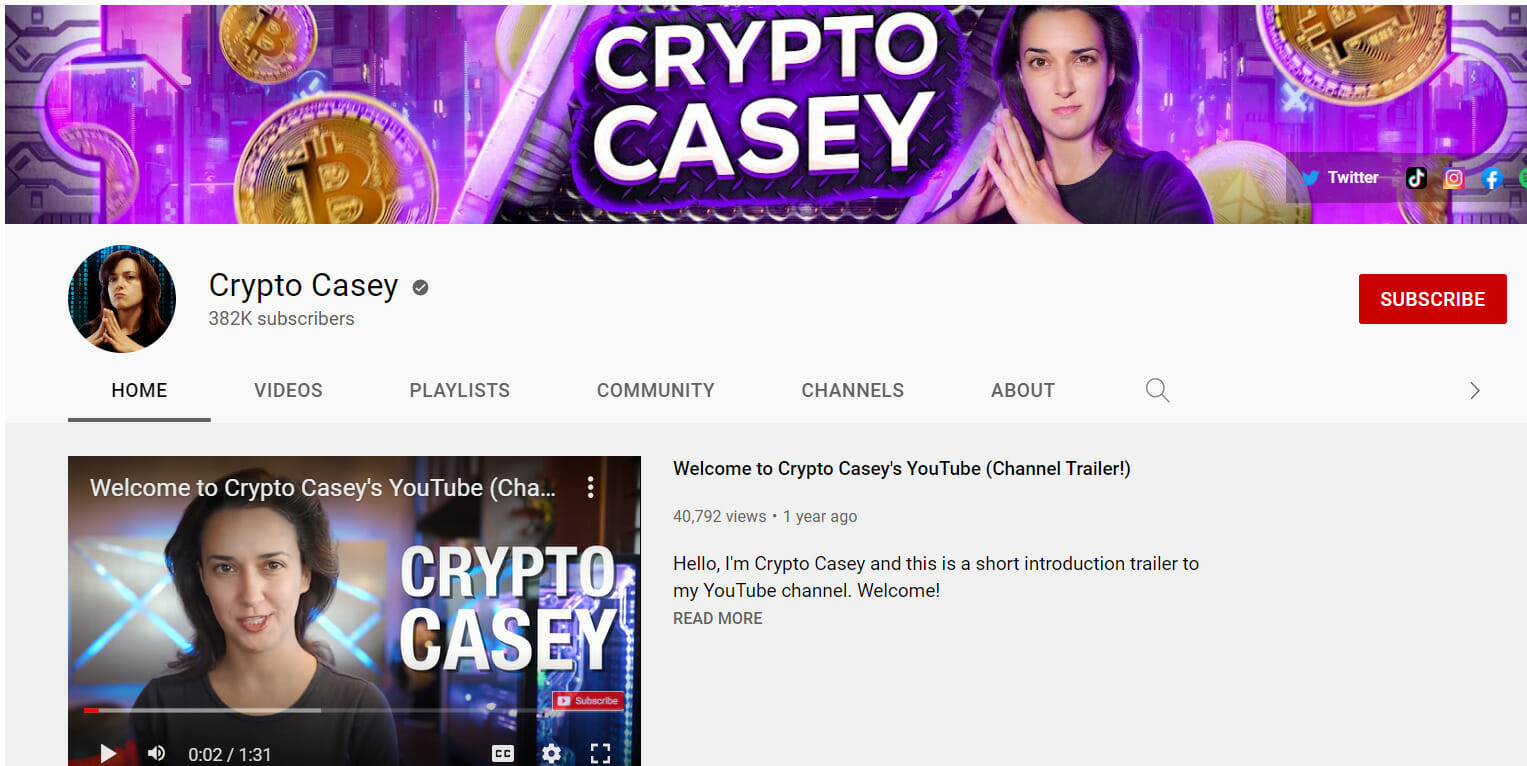 She has a very good explainer videos library for absolute beginners, but also very helpful sections on taxes (US-oriented).
Coin Bureau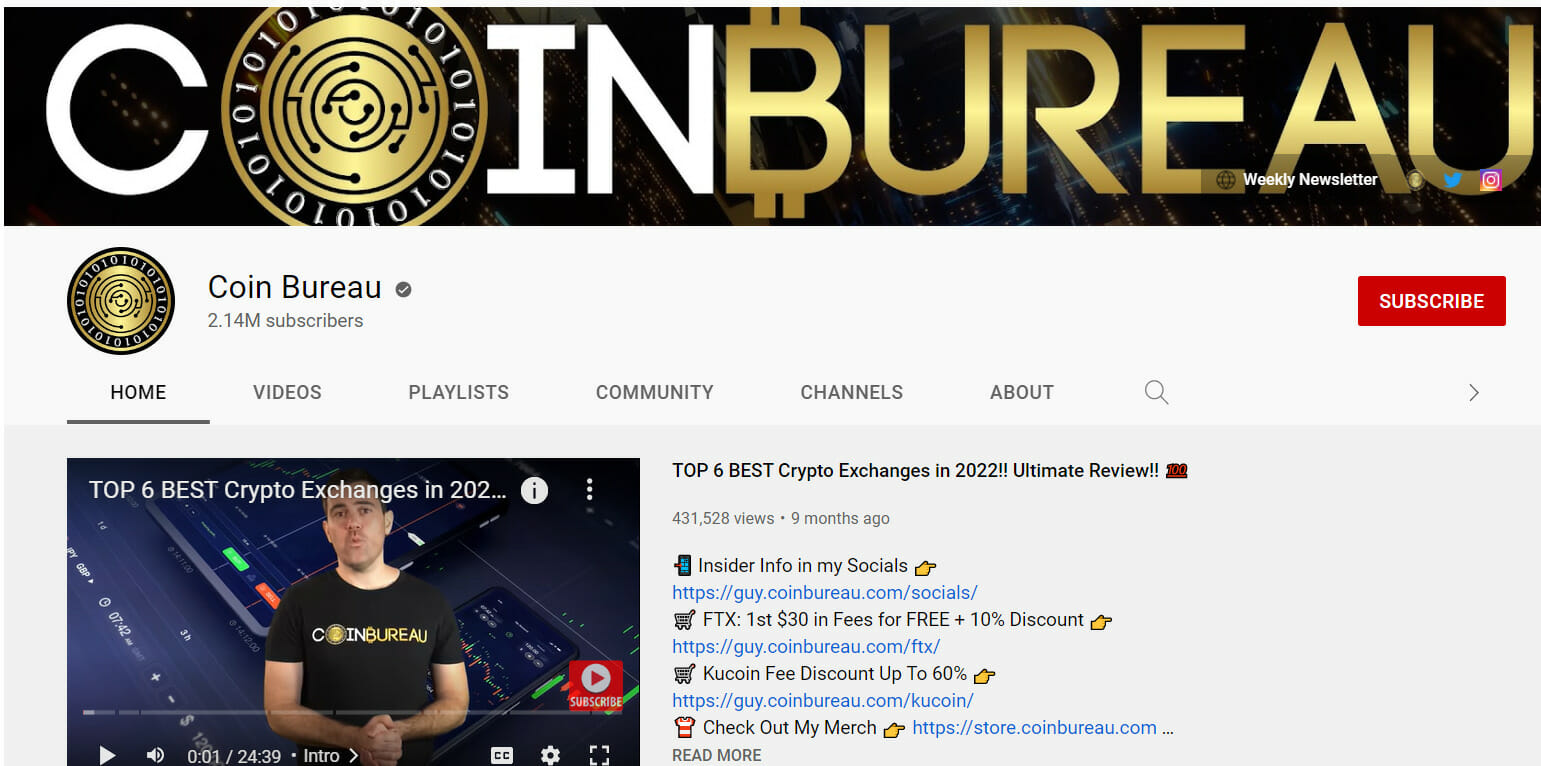 An absolute heavy hitter in this selection. While Coin Bureau is often quoted in the top lists for crypto content on youtube, it's not without reason. The sheer volume of content, with two or more videos almost every day, can't be easily beaten. However, when you add a fun yet the very professional and informative format of the videos with a wide gamut of helpful tips, as well as breaking news, it's hard not to include Coin Bureau in any top list.
Top 5 Crypto Podcasts
Unchained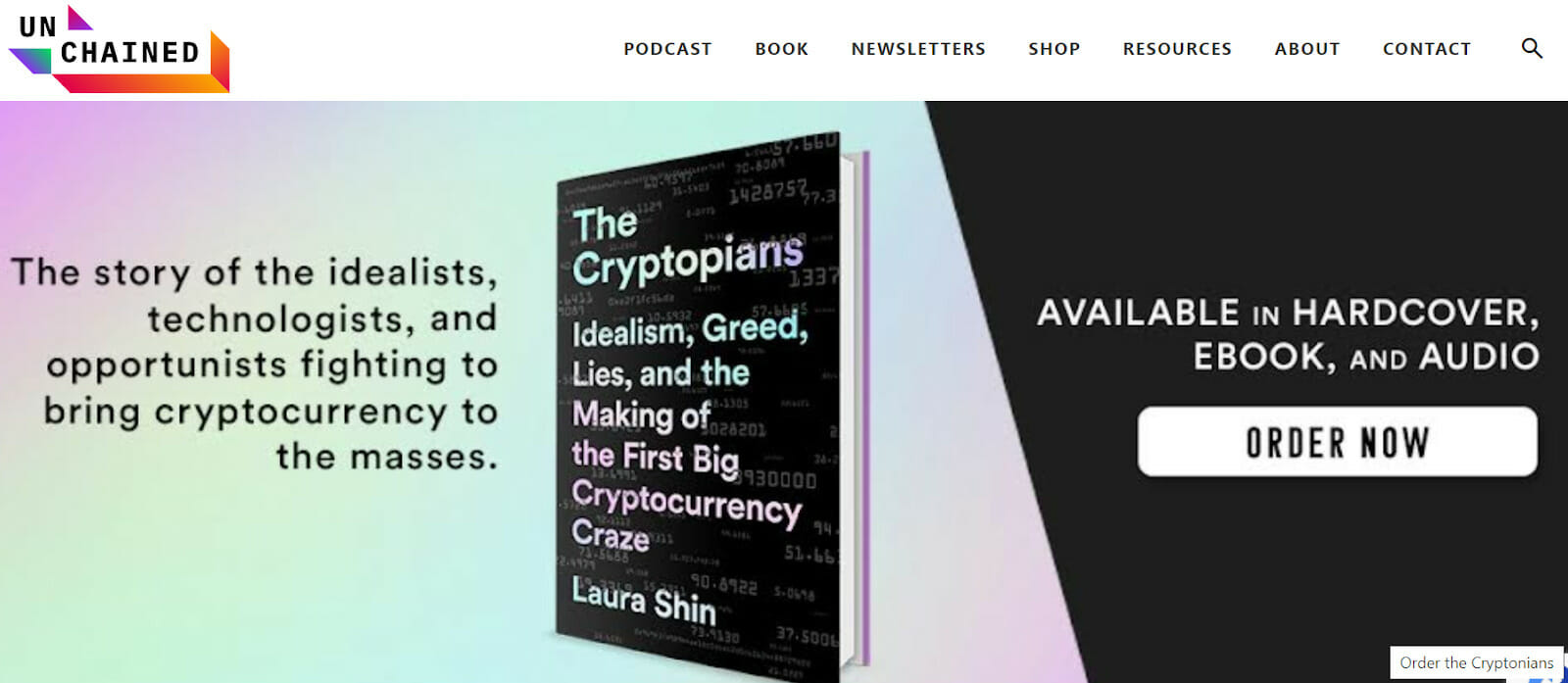 As you can see, our selection is eclectic and different. So why are we, then, including a major podcast, one always listed in almost every top list? Well, it's thanks to the amazing author and host – Laura Shin. In the world ruled by boys and crypto bros, it's refreshing to see female hosts taking on current events, the NFT craze, as well as in-depth talks with industry leaders.
WAGMI

"We are all gonna make it" is dedicated to – you. It's a podcast about how to build a crypto portfolio, how to navigate crypto gaming and Play to Earn fad in a very convenient 20-minute episode format that is very easy to follow. You can find them on both Apple and Spotify.
Crypto News Alerts

If you are indeed a fan of fast-paced talks, if you cherish value-packed informative podcasts, Crypto News Alerts proves to be a very useful tool. In 20-minute episodes, you can not only learn about crypto but get laser-focused insights, statistics, and all you need to grow into a savvy trader.
Bankless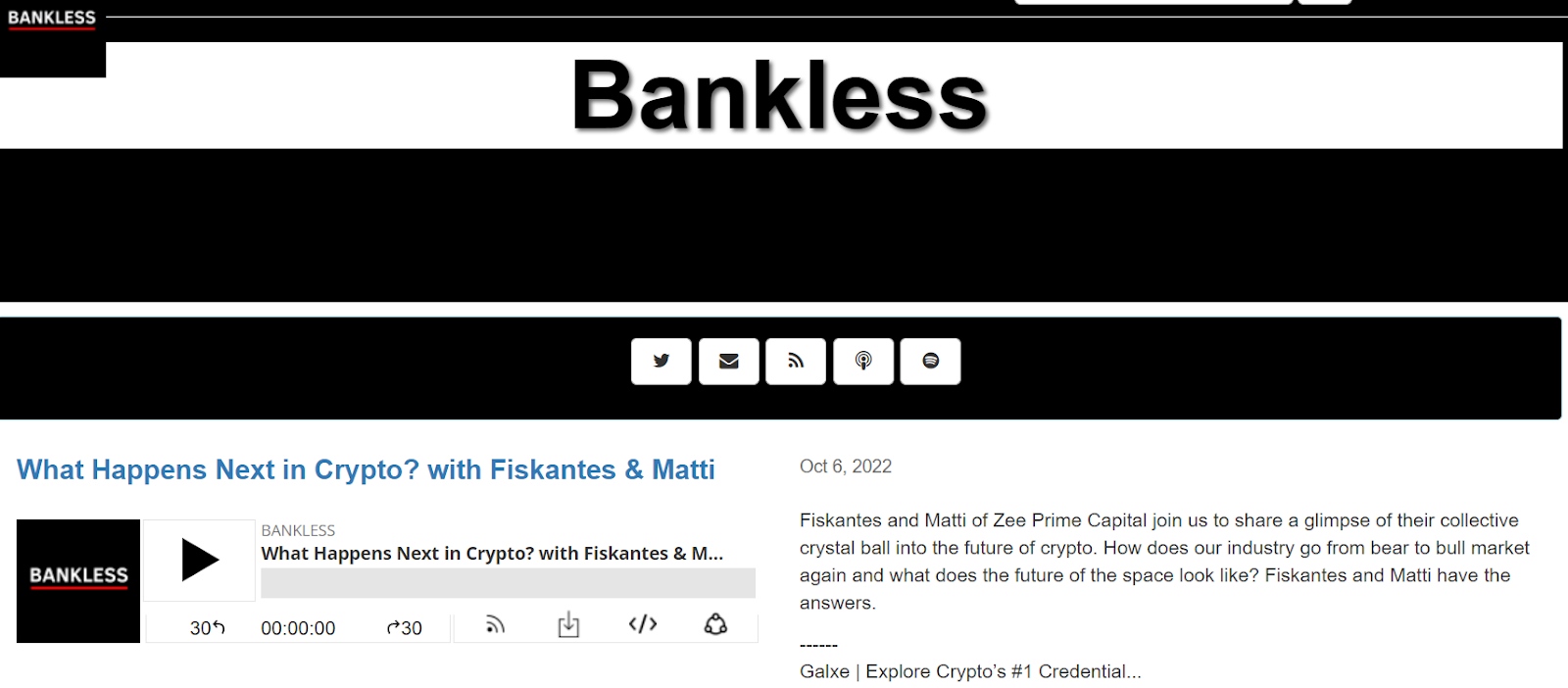 This Youtube-based podcast is all about crypto and open finances. They offer various formats, from news recaps to information-rich guides to people-focused talks in quite interesting, unscripted Rogan-style. Bankless covers NFTs, weekly roundups, deep talks about the future of blockchain and its influence on society as a whole, as well as monthly panels on hot crypto topics.
Decrypt Daily

A lot of podcasts out there deal with people and current events that make it difficult for beginner and intermediate traders to find their way around important topics. However, in the world of crypto, especially in the DeFi area, lucrative opportunities are deep there, where a lack of information prevents beginners from reaching the best projects. Decrypto daily sheds light on those areas of opportunity with clarity and an easy-to-follow format.