Crowfall is a new game that launched on Steam and is in it's very early days. It has a very interesting design and I think the game is in very good hands. It's a game that is being developed by a small indie studio and so far they are doing a great job.
Crowfall, the upcoming game from ArtCraft Entertainment, was always going to be a slow burn. It's a massive online game that will take years to complete—so the core game experience, the story, and even the tech needed to support it will all be established at launch. No, Crowfall won't be a massive blockbuster. But it's not in any danger of failing, either.

One of the biggest MMO Kickstarters of all time and the highly anticipated PvP game launched last week….. but you wouldn't be able to tell by looking at what others are playing.
If there are people who play Crowfalland enjoy it, it's not many: Some players counted the number of servers and concluded that during the launch week the maximum number of concurrent players was 3,150, which is only a fraction of the total number of registered players (or even close to the 17,000 players that supported the game).
When ArtCraft was alerted to this figure via Twitter, the studio responded with words: We do it slowly and regularly. We focus on the quality of our services while striving for growth.
But, creative director J. Todd Coleman took off that value. Registered email addresses can't play (we're not F2P), he said on Twitter. At peak times, competition is usually about 20% of the active player base, meaning that over 25% of our fans played at peak times (and more if you count off-peak times).
If you haven't decided to buy and play Crowfallyet, check out our first impressions and stream. Interestingly, as of last night, ArtCraft is still promoting Dreg's campaigns.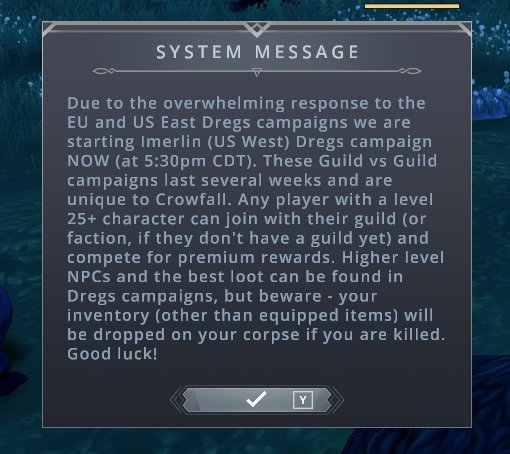 View